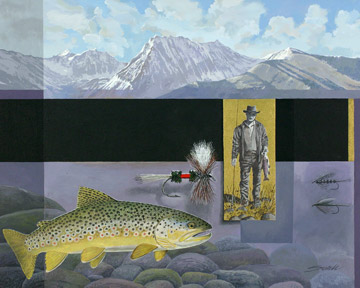 Purple Haze shows the memories and dreams of fishing past and present. Against a backdrop of snow covered mountains, a gold rectangle floats, bearing a fisherman from the days when one kept the catch. A couple of old traditional wet flies are softly rendered on the right.
The bottom of the painting implies an underwater scene and a colorful brown trout floats in space. The geometric forms and their shadows create layers of space in the painting, powerfully accented by the dramatic full color Royal Wulff in the center.
This jewel of a painting is 30″ wide by 24″ high and has been sold. However, giclee prints can be ordered.