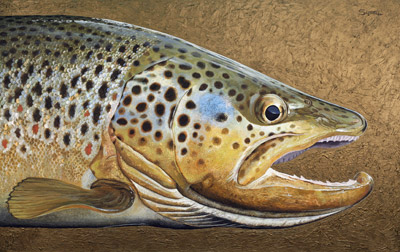 Madison Warrior has the power and strength of a great predator brown trout, a male with the characteristic hooked jaw. Bern has a great love for the brown trout, especially in the fall when they become more colorful with spawning.
While this painting shows the formidable qualities of a big brown trout, the paint handling is an exultant celebration of the richness of color and detail brought to life on a grand scale. This painting is acrylic on canvas and measures 54″ wide by 34″ high with a painted gallery wrap edge so it can be hung without framing.
The original painting has been sold. For gifts or to enjoy in your own home, giclee prints of this painting are also available.